Aluminium chloride formula
Aluminium chloride is a well-known organic reaction catalyst. Pure aluminium chloride is produced by the exothermic reaction of aluminium metal and chlorine
Sometimes, aluminium chloride is referred to as aluminium trichloride. The formula for Aluminium Chloride is AlCl3. As for its outward look, it is often white. It becomes yellow, however, owing to the presence of impurities (iron(III) chloride).
This substance is soluble in water, hydrochloric acid, ethanol, chloroform, and CCl4 and is mildly soluble in benzene. It is a silvery-white powder, but if polluted with ferric chloride, it may become yellow. It has a propensity to readily absorb water (hygroscopic) to produce monohydrate or hexahydrate. Aluminium chloride is a caustic and very poisonous chemical. If breathed or contacted, it may cause severe harm to the eyes, skin, and respiratory systems.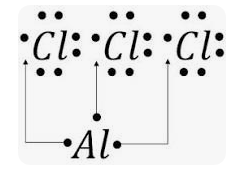 Physical Properties of AlCl3
Aluminium chloride's melting and boiling points are quite low. It sublimes at 180 degrees Celsius.

AlCl

3

, in its molten condition, metal is a poor electrical conductor.

Aluminium chloride is white, but it is often polluted by iron trichloride, which gives it a yellow hue.

It is only liquid at pressures over 2.5 atm and temperatures above 190 degrees Celsius.
Chemical Properties of AlCl3
Aluminium chloride is a very potent Lewis acid.

It's a significant industrial catalyst.

AlCl

3

Is an anhydrous, non-explosive, non-flammable solid that is also corrosive.

The substance reacts aggressively when exposed to water.
Uses of Aluminium Chloride 
Aluminium Chloride is often recognized as a versatile chemical compound and hence has various applications. Aluminium chloride usage is mentioned below.
Aluminium Chloride (AlCl3) is mostly employed as a catalyst for several chemical processes. It is often used in the Friedel-Crafts process, which includes both acylations and alkylations. It is used in the synthesis of anthraquinone from phosgene and benzene.
It is also used in polymerization and isomerization procedures involving hydrocarbons of low molecular weight. The manufacturing of ethylbenzene and dodecylbenzene for detergents are two examples of common processes. Aluminium chloride and aluminium may be combined with arene to produce bis(arene) metal complexes.
Relevance of Aluminium Chloride in Chemistry
Aluminium chloride is a chemical compound used to produce aluminium, and it interacts vigorously with water. It is an aluminium chloride compound that is white in colour. It must be isolated from hydrogen due to its strong reactivity. Even a little amount of moisture may cause powerful effects. It is mostly used in manufacturing and industry. Aluminium chloride is a subject that all chemistry students must understand in order to be able to answer any queries pertaining to it.