Oxalic Acid Formula
Oxalic acid is a dicarboxylic acerbate with the chemical expression C2H2O4. Therefore, oxalic acid is also referred to as Oxalic acid or Ethanedioic acid.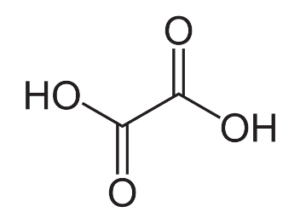 This Organic compound, oxalic acid, is found in various plants and vegetables. It is also cognized as a dicarboxylic acid with the distilled formula as HOOC – COOH and has an acidic property or strength larger than acetic acid.
The oxidation of carbohydrates establishes oxalic acid. It can also be prepared or cooked in laboratories by the oxidation method of sucrose in the presence of nitric acid and an agent or catalyst such as vanadium pentoxide. 
Oxalic acid occurs in the saps of cells of Rumex and Oxalis species of plants as the Calcium salt and Potassium salt.
When the oxalic acid is put into an aqua solution, it becomes a weak or feeble acid that will only partly ionises. The acid has two acid-forming protons. 
Oxalic acid has a construction of 2 organisms or polymorphs, and it seems like a white crystalline solid-state which gets a colourless solution when disintegrated in water. Oxalic acid is a reducing agent used as a forming agent with oxalate as its compound base. 
Preparation of Oxalic acid
Oxalic acid can be prepared easily by oxidation of definite carbohydrates such as sucrose by turning nitric acid. During the intermediate oxidation process, the atoms of carbon split, resulting in oxalic acid.
Procedure
Take 10 grams of sugar cane in 250 ml of the conical flask

Then add 50 ml of accumulated nitric acid and heat it in a warming water bath 

After this process, the mixture becomes heated up, or one and most of the sugar get broken up

Vaporise the acerb solution by heating the warming water bath until the volume is simplified to about 10ml

Cool down the result in the water-ice mixture

Oxalic acid crystallises quickly

Collect the creation on the Büchner cone at the mechanical device

Dry the result by pressing between the filter material and then in the air

The output of the result is about 3.5gm of oxalic acid
Examples
1. Name the health issues related to oxalic acid?
It is harmful in toxic acid

If anyone by mistake swallows it, then it may also lead to failure of the kidney
2. What level of PH does oxalic acid have?
The acid separation of oxalic acid is from 5.60 between 10 – 2 and 5.42 between 10 – 5.
Important formulas: