When preparing for UPSC CSE, it is crucial to refer to the right study material. Although many books and study materials are available online and offline, aspirants must research to shortlist the study materials that will help them ace their preparation. It is recommended that UPSC aspirants start their preparation with NCERT books and move to the standard reference books later. The choice of reference book will depend on the subject-matter knowledge of the candidate and their previous expertise in the exam.
Table of Contents
UPSC Preparation Books – Best Books For IAS Prelims
There are 2 papers in the Prelims for General Studies Paper – I and CSAT & both are of objective type with negative marking. Here are the best IAS Prelims Best Books given below – 
Subject
UPSC Books

History

NCERT 11th Ancient and Medieval

NCERT 12th Modern Indian History

Indian Art & Culture by Nitin Singhania

India's Struggle for Independence – Bipan Chandra

Geography

NCERT VI-X Old Syllabus

NCERT XI, XII New Syllabus

World Atlas (Orient Black Swan)

Certificate Physical Geography – G C Leong

Indian Polity

NCERT IX-XII

Indian Polity – M Laxmikanth

NCERT XI

Economic Development & Policies in India – Jain & Ohri

Economics

Indian Economy by Nitin Singhania

International Relations

Current Affairs

NCERT XII (Contemporary World Politics)

CSAT

Tata McGraw Hill CSAT Manual

Verbal & Non-Verbal Reasoning by R S Aggarwal

Solved Papers

IAS General Studies Prelims Solved Papers by Vishal Publications
UPSC Preparation Book List – Best Books For IAS Mains
The candidates who qualify for the UPSC prelims examination will be eligible for the IAS Mains examination. There are 9 theory papers out of which 2 papers are optional. The candidates can follow the given book details for the preparation of the UPSC Preparation 2023 – 
Here, we have mentioned the best general studies books for the UPSC Mains 2023 – 
Subject
UPSC Books

History, Indian Heritage & Culture

[GS Paper 1]

Ancient India by RS Sharma

India after Independence by Bipan Chandra

History of Medieval India by Satish Chandra

Indian Art and Culture by Nitin Singhania

India's Struggle for Independence by Bipan Chandra

Geography

[GS Paper 1]

Geography of India by Majid Husain

World Atlas (Orient Black Swan)

Certificate Physical and Human Geography by G C Leong

World Geography by Majid Husain

Fundamentals of Physical Geography NCERT Class 11

Polity & International Relations

[GS Paper 2]

Introduction to the Constitution of India by DD Basu

Indian Polity by M. Laxmikanth

International Relations: Pushpesh Pant

Economy

[GS Paper 3]

Environment and Disaster Management by Tata McGraw Hill

Indian Economy – Nitin Singhania

Challenges to Internal Security of India by Ashok Kumar

Ethics

[GS Paper 4]

Ethics, Integrity and Aptitude for Civil Services Main Examination by Subba Rao and P.N. Roy Chaudary

Solved Papers

IAS General Studies Prelims Solved Papers – Vishal Publications
UPSC Books For Optional Subjects 
Agriculture

Agronomy By Yellamananda Reddy

Soil Science – D.K Das Or Brady

Genetics By B.D.Singh

Entomology – Vasantha Raj & David

Special Issue of Agriculture by The Hindu

Anthropology

N. Hasnain: Tribal India

Herskovits: Cultural Anthropology

Surender Nath: Forensic Anthropology

Herskovits: Cultural Anthropology

Stein & Rowe: An Introduction to Physical Anthropology

Botany

  Taxonomy: Nair along with Datta

Embryology: Bhojwani and Bhatnagar

Physiology and Biochemistry: Salisbury and Ross or Fritz and Noggle

Economic Botany: Kochar or Verma

Chemistry

Theoretical principles of inorganic chemistry – G.S. Manku,

Extradiction of metals, Principle of inorganic chemistry – Puri, Sharma, Jauhar.

Advance physical chemistry – Gurdeep Raj

A guide to mechanism in organic chemistry – Peter Sykes

Economics

International Economics – Bo Soderston

National Income Accounting – Bakerman

Banking – S.B. Gupta

International Trade – Bo Soderston

History

History of Modern India – Shekhar Bandopadhyaya/Bipan Chandra

India's Ancient Past – R.S. Sharma

The Wonder That Was India – A.L. Basham

Ashoka and the Decline of the Mauryas – Romila Thapar

India's Struggle For Independence – Bipan Chandra and Others

Management

Financial: Pandey/Chandra/Khan & Jain/Bearley

Economics: Any good economics book

Operations: Adams/Taha

Organisational Design: Khandwala; Madhukar Shukla

Mathematics

Ordinary Differential EQs:- MD Raising Lumina, Golden series-NP Bali

Real Analysis – Shantinarayan, Royden

Linear Programming – SD Sharma

Solid Mechanism – Kazmioo

Electrical Engineering

Modern Central Engineering – Ogata

Electromagnetic Waives and Field – R.N. Singh

Surveying and Levelling – T P Kanetakar

Heat Conversion – Arora & Kundwar

Urdu

Urdu Shairi ka Tauqidi Mutala – Suenbul Nigar

 Urdu Nasr ka Tauqidi Mutala – Suenbul Nigar

Urdu Adab Ki Tarikh – Noorul Hasan Naqvi

Psychology

Psychology Robert A Baron

Social Psychology Baron & Byrne

The Psychology of Small Groups Shaw
Also See-
The Value of UPSC Preparation Books
UPSC preparation books can be very valuable for individuals preparing for the Union Public Service Commission (UPSC) exams in India. These exams are highly competitive and are used to select candidates for various government jobs, including those in the Indian Administrative Service (IAS), Indian Police Service (IPS), and Indian Foreign Service (IFS). Preparation books can help individuals understand the exam format and content, as well as provide practice questions and study materials to help them prepare for the exams.
It's important to note that while UPSC preparation books can be a helpful resource for studying, they should not be the only source of information and practice materials used. It's also recommended to use a variety of other resources, such as online study guides, practice tests, and coaching classes, to ensure a well-rounded and comprehensive preparation for the UPSC exams.
Highlights of UPSC Notes 2.0 by Unacademy
Integration of UPSC PYQs

All the UPSC Questions asked in the Mains Examination from 2013-2020 are integrated into Notes 2.0. Learning PYQs will help learners understand the demand of exams.
Also, UPSC has a tendency to repeat a few questions. For example, UPSC has repeatedly asked questions about the difference between Indian and Western Secularism, similarly, questions on issues related to Urban Flooding have been asked repeatedly. Learning PYQs will help in addressing such answers.
Previous Years' Question (PYQs) in Notes 2.0: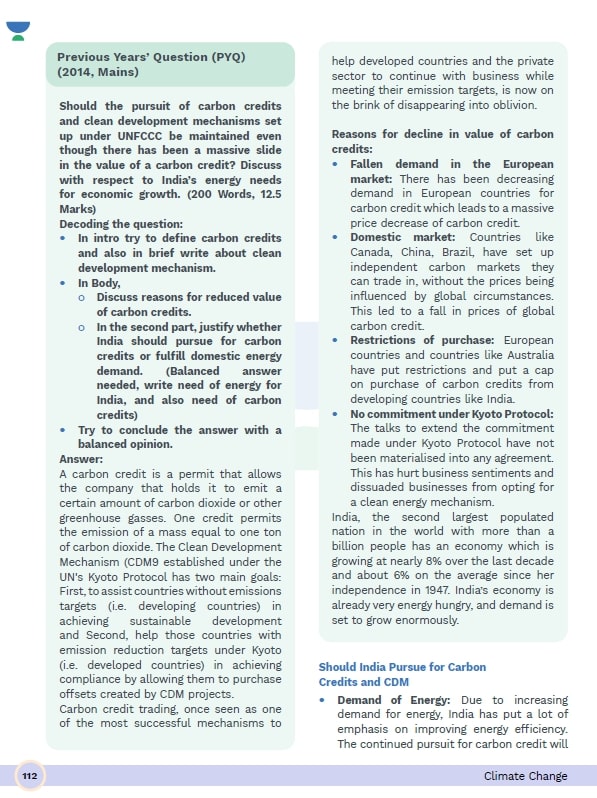 Mindmaps and Timelines:
High-yield information has been compressed in the form of tables, flowcharts, bullet points and timelines, these things will help one memorise and recall the information in an easier way. This will be particularly useful for revision. Rather than revising entire chapter, learners can revise a page.
Timelines
Mindmaps
Comprehensive coverage of each and every topic:

Contemporary issues are comprehensively covered in Notes – For example, the Taliban takeover over Afghanistan, Supreme Court on Internet Suspension, Quota within SC Quota for deprived Scheduled Castes, and debates around Indian secularism are covered.
Critical opinion topics are covered in Notes – The majority of questions asked in the UPSC Mains examination are opinion-based, we have tried to inculcate the same in Notes 2.0. For example, topics like – Why did Congress accept the partition of India? Could the partition of India be avoided? has been covered in Notes 2.0.
Supreme Court on Internet Suspension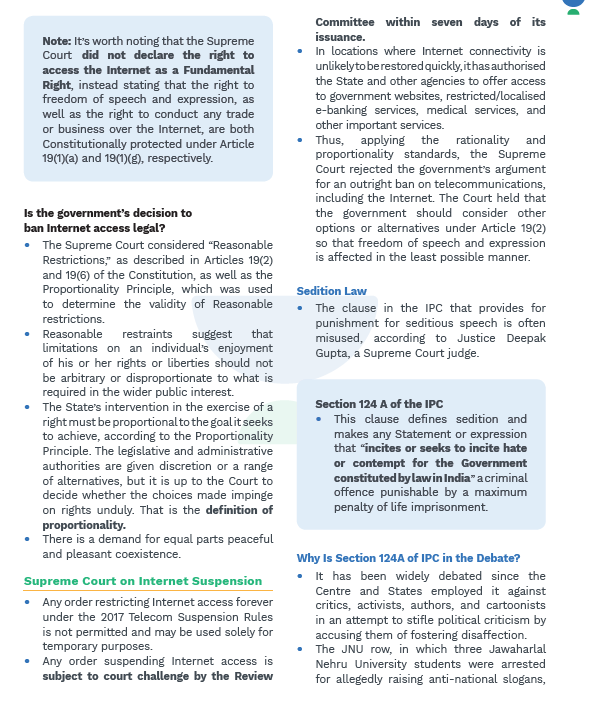 Wisdom Nuggets:

Notes 2.0 is also embedded with wisdom nuggets. For example, Did the British give India Political Unity?
Other Features:
Thin and crispy books so that working professionals can easily finish small topics like Disaster Management, Post-Independence and World history. Books are easy to read and revise
As contemporary issues, theory, critical opinion-based issues and PYQs are covered in Notes 2.0, it saves learners time and money to buy individual books
Good quality paper quality and binding, even if a learner highlights using pen or highlighter it wouldn't spoil the pages.
Unacademy, India's leading learning platform, also offers study material online to help candidates boost their UPSC exam preparation. Check out the website to access our world-class study material for UPSC curated by the Top Educators of Unacademy.
Also read –